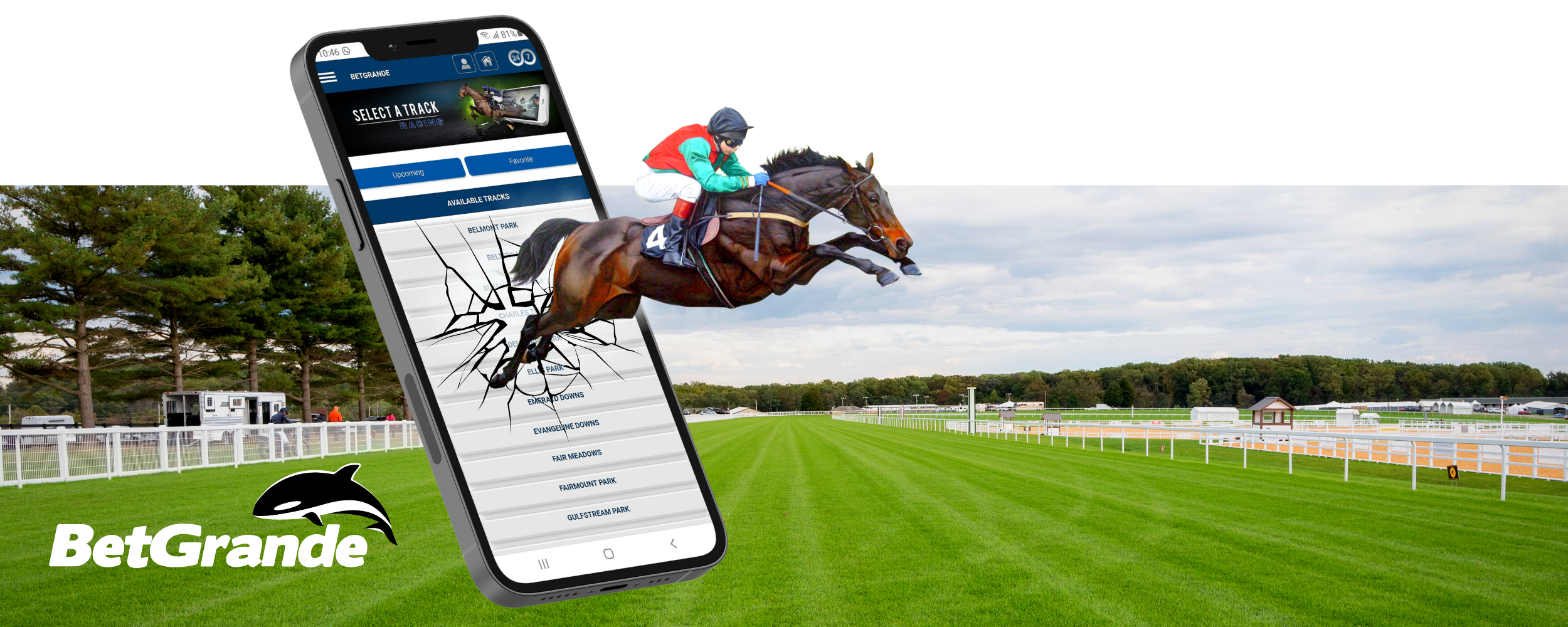 HUGE HORSE RACING FAN?
You've certainly come to the right place! BETGRANDE allows you to bet on horse races from HUNDREDS of racetracks. Access our horse race betting hub via your desktop or mobile. That means when it comes to horse betting, you'll never miss the action!
BETTING THE TRIPLE CROWN?
Save-3-dates! Bet on the Kentucky Derby on the first Saturday in May, the Preakness Stakes two weeks later, and the Belmont Stakes three weeks after that. If Horse Racing is your thing, step into BetGrande!

BETGRANDE
JUST LIKE OFF TRACK BETTING, ONLY BETTER!

A LOOK AT TODAY'S TOP 10 RACETRACKS
@ BETGRANDE: CLICK or TAP to get more details
1. Arlington Park, Illinois

This picturesque turf race course lies in the suburbs of Chicago and is renowned for its natural beauty. Racing at Arlington Park dates back as far as 1927 and in 1981, the track hosted the country's first $1 million horse race, The Arlington Million. Disaster struck in 1985, when a fire ravaged Arlington's famous grandstand, which was later rebuilt. Today, the track hosts grade one events such as the Secretariat Stakes, Beverly D. Stakes, and the Arlington Million.

2. Churchill Downs, Kentucky

Churchill Downs is one of America's most legendary race courses, featuring a grandstand with iconic twin spires and over 147 acres of manicured landscape in Louisville, Kentucky. The track's top race is the annual Kentucky Derby, the first race in the prestigious Triple Crown. Don't miss this thrilling event, attended by celebrities like Jack Nicholson and even Queen Elizabeth II.

3. Monmouth Park, New Jersey

Also referred to as 'The Shore', Monmouth Park is situated in Oceanport New Jersey, near the Atlantic. The historic track dates back to 1870 and today, its flagship races include the grade one Haskell Invitational Handicap and the United Nations Stakes.
4. Saratoga Race Course, New York

Saratoga is packed with racing fans between July and September, when it hosts non-stop races with staggering payouts. Located less than three hours from central New York, Saratoga is a family-friendly track established in 1863 and features great music and food, as well as top-class racing.
Highlights include the Travers Stakes and Whitney Stakes.
5. Pimlico Race Course, Maryland

As America's second-oldest race track, Pimlico is steeped in history that stretches back to 1870. The highlight of Pimlico's racing calendar is the $1 million Preakness Stakes, the second leg in the Triple Crown. Pimlico is located in Baltimore and also hosts music concerts. Its nickname, the 'Old Hilltop', stems from a small peak in the infield where trainers used to gather.
6. Keeneland Race Course, Kentucky

Head to Lexington, Kentucky, for a day at the popular Keeneland race course. Featuring a combination of dirt and turf tracks, Keeneland is most famous for hosting grade one races like the $500,000 Queen Elizabeth II Challenge Cup, as well as for selling thoroughbreds. The course attracts some of the biggest audiences in America who flock to the pristine grounds for the Spring Meet, often attended by A-listers like George Clooney.
7. Oaklawn Park, Arkansas
Oaklawn is set in Arkansas' idyllic resort town, Hot Springs. It's been recently expanded to feature not just horse racing, but casino slot machines, poker tables, and an Instant Racing Complex. Visit during the Racing Festival of the South, when fixtures include the Oakland Derby, a prelude to the Kentucky Derby.
8. Belmont Park, Long Island, New York

Belmont is famous for hosting the final leg of America's annual Triple Crown, the Belmont Stakes. This endurance race is also known as 'The Test of the Champion' and draws huge crowds of up to 50,000 people every June.
9. Del Mar Race Track, California

Set by the sea, Del Mar is known by the slogan: 'Where the surf meets the turf'. Founded in 1937 by celebrities including Bing Crosby, Gary Cooper, and Oliver Hardy, the 44,000-capacity race track is also the second-largest in the western US. As well as graded stakes including the Pacific Classic, Del Mar hosts an annual hat contest and music concerts throughout the year.
10. Santa Anita Park, California

Set against a backdrop of the spectacular San Gabriel Mountains, Santa Anita is one of America's most picturesque race tracks. The course has a 40,000 capacity and is listed in the National Register of Historic Places due to its history as an assemble center during World War II for Japanese Americans. Famous horses such as Seabiscuit and Man o' War have raced at Santa Anita.
YOUR FIRST WINNING TICKET = BETGRANDE.com
We have been proudly serving customers online since 1995

BETGRANDE WELCOMES YOU TO THE FUTURE
MOST POPULAR CRYPTOCURRENCIES AMONG OUR CUSTOMERS

BETGRANDE | WORLD'S LEADING CRYPTO BETTING SITE